Business Lawyer Serving the Lee's Summit & Kansas City Areas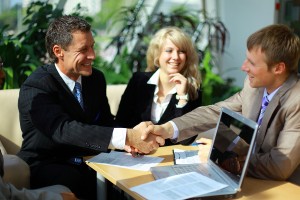 You are in business to sell your product or service and make a living. Part of owning and operating a commercial enterprise is preparing to minimize the risk of facing legal action where you can and preparing to deal with it in the most effective way possible when you have to. Jeff Carey in Lee's Summit, Missouri has more than ten years experience advising business clients, filing and prosecuting litigation on their behalf and defending them when necessary.
Whenever possible, you want to negotiate a win-win solution. Jeff Carey has an M.B.A. and is an experienced business attorney who can help. When situations arise that cannot be easily settled through standard negotiation practices, it is vital to work with a business lawyer who is both knowledgeable and experienced in business law and who also knows their way around a courtroom. Litigation is different than corporate law. Jeff Carey is prepared to help you in both arenas. One of the most important things you can do to protect your company is to choose a business lawyer with demonstrated passion for advocating for and defending his clients.
20 Years of Experience as a Business Lawyer in Kansas City
Jeffery Carey has been providing legal services to the Kansas City area for over 20 years. He utilizes his litigation expertise on behalf of businesses and individuals with contract and general business disputes. In some cases, your litigation matter may be handled on a contingency fee basis.
Litigation Services Include:
Intellectual property litigation
Securites and investment fraud
Business dissolution
Breach of contract
Unethical and unfair business practices
Real estate litigation
Don't see the services that you need? Don't hesitate to give us a call — we are ready to help you resolve your individual issues today.
Protect Your Company with an Experienced Business Lawyer
If you're in business, you may need the services of an experienced, knowledgeable business lawyer. Making an informed choice is essential. Taking the time to explore your options and establish a relationship before you are in a spot can be the best practice. But Jeff Carey can also be available to you as the need arises. Let the experienced business lawyers on our legal team help your business thrive. We advocate for you. Contact our team to connect with professionals who will fight for your company.
Call a business lawyer you can count on — (816) 246-9445!
Proudly serving Lee's Summit, Kansas City, and surrounding areas